You can also see my reviews on Facebook.
Testimonials from Washington clients, 2017 – present
Corrie has been my horse's trimmer since fall 2018. Corrie's care, holistic approach and our steady trim cycle has greatly improved my horse's hoof health and comfort. My horse is a 25 y.o. OTTB with thin hoof walls, occasional abscessing, and is prone to developing low heels. Corrie is a terrific listener and observer of my horse's individual needs which has made room for significant progress. I have appreciated Corrie's patience and compassion she shows with my horse's arthritis which often lends to slow trim sessions. Lastly, Corrie's commitment to continue learning and sharing her knowledge is much appreciated. She is a trimmer you can learn from and trust. If you are considering Sole Purpose Hoof Care, you will not regret it! You and your horse will come to love Corrie like my horse and I have. ~Nicole Corey, owner
Corrie has both trimmed my horses and coached me through learning how to trim on my own.  She is always patient with the horses, meeting them where they are at when they have physical or emotional limitations.  She takes her time to understand what each individual needs both from a trimming and handling perspective.  I 100% trust her to handle my most sensitive rescues whether I am present or not.  
When it comes to teaching me, Corrie is equally patient and has a gift for explaining things in an easy to understand manner.  She doesn't criticize or make you feel like you've failed when you haven't kept things up the way you should, just offers constructive suggestions and encouragement.  She's also always willing to offer advice between visits and is very responsive. ~Trisha Newell, owner, trimming her own.
Corrie has always taken the time with my horses. She's very patient and kind to my mare that needed to trust hoofcare professionals again. I love how she will take the time to answer any and all my questions. ~Sarah Baugess, owner
I can't say enough good things about Corrie. She has been a complete game-changer when it comes to my OTTB's hoofcare! She has been with me every step of the way, starting from when I wanted to get him out of shoes but had no idea where or how to start. She patiently answered all of my questions and together we came up with a plan for his transition from shod to (hopefully!) barefoot: she trims and has taught me to apply glue ons to help him be comfortable. He moves much better and overall seems much happier. I love that she explains what she is doing and why, and helps me understand his hoofcare better. Last but most certainly not least, she is communicative and responds promptly, whether it's a question or scheduling, and she is always punctual for his trims! I cannot recommend Corrie enough. ~Livia Trager, owner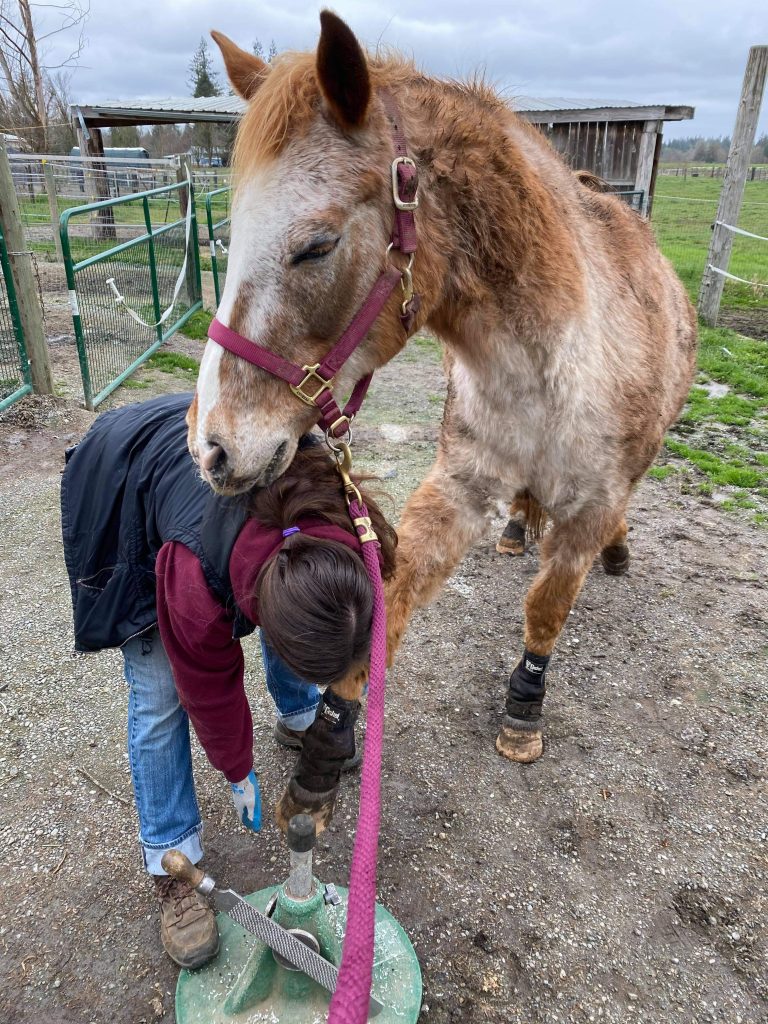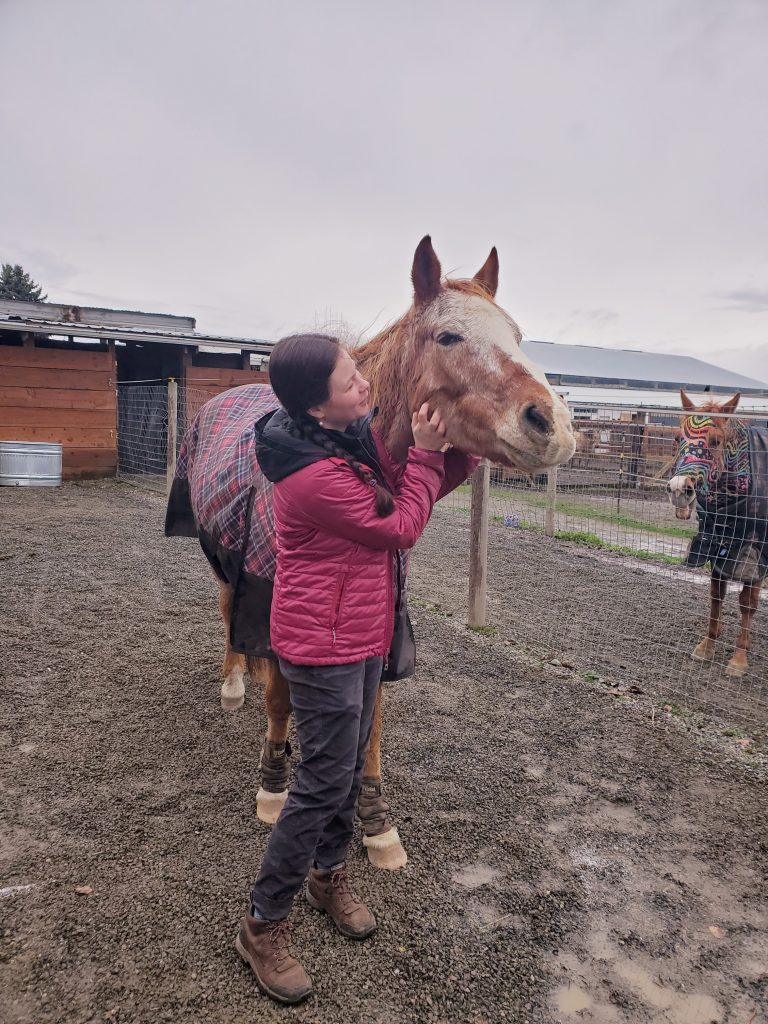 My horse has been a client of Corrie's for about 2 years now. My senior horse has had a long past where he wasn't always treated nicely. Corrie helped me turn that new leaf for him. She is non judgmental, supportive, knowledgeable, and always teaches me something new when we have an appointment. She worked with my horse to gain his trust by learning about him and what he needed to have a successful trim. Breaks, treats, not being able to lift his arthritic leg too high or too long. Today, my horse is very sound for the age of 25 because of Corrie's whole horse approach. I truly believe her expertise on hoof care, supplements, physical and mental health has helped us get to where we are now. It's always a pleasure to see Corrie during our trims. The only downside is my horse is so cooperative now, we are sometimes done in under 15 minutes but we haven't finished catching up yet. We highly recommend Corrie and Sole Purpose Hoof Care! ~Dorothy Chow-Taylor, owner
When Corrie first came to work on my chestnut mare, we had been through quite a few farriers and trimmers. My mare needs to be held low and to go slow, and she needs to understand you're going to work with her instead of fight with her. Corrie really was kind and patient, and now my mare sighs and checks in with her at trim appointments. Her feet look awesome as well! I also look forward to having Corrie come trim instead of getting anxiety before each trim. ~Marika Saarinen, owner
Corrie has been trimming my mare since 2019 and her feet have improved  leaps and bounds. She takes excellent care to keep every horse comfortable and has the patience of a saint. I love the extra education she is always willing to impart. The owner becomes an active participant in hoof care with Corrie! ~Amy McKenna, owner
Corrie is fantastic! I have 2 rescued minis & one has serious anxiety issues. Corrie recognized that immediately & has worked with my minis and myself to make trimming a pleasant experience for all. Each trim has gotten easier. Plus Corrie is so nice & fun to be around. I always look forward to her visits! ~Sarah Griner, owner
---
Testimonials from my Virginia Clients, 2015 – 2017
Corrie has done excellent work on my three very different geldings. She always takes the time the horse needs and never rushes them. I appreciate how meticulous she is about her work. Corrie is willing to talk to owners and receive their input on how the horse is going. She is a kind, patient knowledgeable trimmer and did wonderful work on my boys! —Hannah Carey, owner of Serenity Oasis Farm.
---
Although I haven't known her for very long, working with Corrie was an absolute pleasure! My horse, Jessie, has always been a "problem child" when it comes to having her feet handled. (As a mustang who wasn't worked with until later in her life, this has been one of many challenges.)

For the first few years that I had Jessie, she would not even allow a stranger to pick up her foot, let alone hold it long enough for a trim. Although she's gotten much better, she still does not like to stand still for long periods of time, especially with one foot off the ground.

Corrie was exceedingly patient with her; taking time to understand her personality and try to figure out what Jessie is most comfortable with. Even though trims take twice as long as they would with a "normal" horse, Corrie never lost her patience or got frustrated. And the quality of her work is consistently excellent. I can't say enough good things about her!

While meticulous about her work, she was also careful not to push Jessie's limits, so that each trim becomes a positive experience. With each session, Jessie has relaxed more and more around her. Corrie took as much time as she needed, and I never felt rushed.

I also greatly appreciate her willingness to share her knowledge. For each foot, she explains what she is doing and why, often taking before and after photos so I can see the difference as well. I've learned a lot from her.

If you're looking for someone who is reliable, patient, and does excellent work, I would highly recommend Corrie! — Bailey Finnegan, owner.
---
Corrie Mannion trimmed my two Oldenburg mares, a mother and daughter, for about two years. I was referred to her by my horse's equine myotherapist. I had previously used a barefoot trimmer for quite a number of years until she moved away. I had to use a local farrier to trim my horses, until I was referred to Corrie. Heidi was in her late 20s and retired due to a number of soundness issues, which made her a bit of a challenge to trim, as it was sometimes difficult for her to balance and stand on three legs for trimming. Corrie was always very gentle and patient with her and did all she could to make the process as easy and comfortable as possible. Sydney competes in the Adult Amateur Hunters at both the local and A rated levels. She has issues with an upright front foot that Corrie has worked very hard on to keep healthy. I have always been very happy with the work Corrie has done on my horses. She has been excellent to work with, working around my schedule and always arriving promptly when scheduled. I am very sorry to see her move away. Virginia's loss is Washington's gain. I will miss her, not only because she has done great work on my horses, but she is also a very pleasant person to work with and is always striving to learn more and do more for the horses. — Denise Luckey, owner.
---
I met Corrie through a mutual Facebook friend and equine professional. I was at my wit's end with my horse's feet and her recommendation came at the perfect time. Corrie and I exchanged basic information about my horse's care, previous farrier/trimmer work, etc. Despite her workload she decided to take us on and I'm glad she did. She met with me the first day with the Vet and we came up with a game plan together. She brought a power point presentation out on her laptop which helped me a lot since I have been resistant to learn beyond basic hoof care. I've always let the farrier deal with the feet and do whatever they feel is best. They are professionals after all and know what they are doing right? Hah.
Corrie did his first trim because he had so much going on with him that he needed a professional to get him right. He looked amazing after and went from cross cantering and having a hard time picking up his leads to picking them up flawlessly after his trim. He has some degenerative changes that are working against him but our goal is to keep him comfortable and as functional as possible and keeping up with a 3-4 week trim cycle has definitely been in his best interest.
My horse made it abundantly clear that he wants me working on his feet and only me. So I had to learn. We did 2 trim sessions one month apart for each one and I went from being TERRIFIED to touching his feet with the rough side of the rasp to actually looking like I knew what I was doing within those 2 sessions. She was encouraging every step of the way and made me feel confident that I *could* do what I thought would be impossible for so long.
My horse has improved dramatically after just 3 trims and even though Corrie has moved on she left a very competent protégé in her place with Britinee. It has been a pleasure to work with both.
I wish we had more time but I am very grateful for what she taught me in the short amount of time she had to work with. She has also always been readily available to contact when I have questions and explains things so as a beginner I can understand. —Melissa Valliere, owner learning to trim.
---
When I first met Corrie, I was completely ignorant about my horses' hoof care. I used to think that my job was to pay hundreds of dollars each year to my farrier and that was that. If my horse was footsore, I was told "some horses just have bad feet." If they had cracks, I was told that it was just superficial and not to worry. I didn't truly know what a healthy hoof looked like – I was so used to seeing unhealthy feet and that was my normal.
Over time, I had several friends gently suggest that this was not the case. Upon being introduced to Corrie, I slowly started to question everything I had once thought to be true. I had met a "barefoot trimmer" once before who I thought was crazy and I admit I was not very open minded to hear what she had to say. What really got me to start listening and thinking was the fact that Corrie was not pushy, she did not come across as trying to accuse me or my farrier of any ignorance, she just kindly offered her experiences in a very non-judgmental way. I think she could tell from the start what I wanted before I knew myself. She really encouraged me to do some research and said that I could learn to trim if I wanted to. It really struck me that this girl was not trying sell me anything and she had no reason to BS me.
I started really questioning things, invested some time into researching and reading up on "barefoot trimming," and the rest was history. I totally caught the bug! I decided not only did I want to pull my horse's shoes, but I wanted to trim them myself. Once I committed to this idea, I simply had to do it. I reached out to Corrie for help and she gladly invited me to ride with her to several appointments to watch her work. At the same time, we pulled my horse's shoes and she immediately began teaching me to trim my own horses. The beginning process was slow and somewhat painful but she had endless patience for me. My horses all love her and that is saying something as some of them are not very trusting of new people. There were tons of laughs as well as aches and pains but the entire experience has been life changing for sure.
She has taught me so many things:
To "do no harm" — if the horse is comfortable before the trim they should walk off comfortable after the trim with few exceptions.

Don't be afraid to trust my instincts and to be open reading every single hoof individually.

Document as much as I can to track the progress or lack thereof.

Keep continuing my education always, and learn as much as I can from each experience (even those that I perceive as negative).

You'll get further with the horses by taking the time to gain their confidence than with trying to manhandle them (one of the biggest rewards is trimming a nervous or traumatized horse and turning this experience into a positive relaxing one).
I learned too many things to list here really, but the most important thing I've gained in all of this is I have found an incredible passion for something that was a total surprise to me and I cannot thank her enough for investing the time in me and my horses. This has changed and enriched all of our lives and for that I'll be forever grateful. —Britinee Zamenick, my Virginia colleague who took over my clients when I moved.
---
I would like to take this opportunity to recommend the services of Corrie Mannion, natural hoof trimmer. About a year ago I was told by both my veterinarian and my farrier that my horse, Fernando, would need hoof re-sectioning and shoes to recover from a large abscess blowout on his coronary band that when it grew out caused substantial damage to his hoof. I felt there was a better way. In addition, we have been struggling with long toes, under run heels, and thin soles (part hereditary, part trim related).

Corrie was referred to me by my Equine Muscle Therapist who knew that I wished to keep Fernando barefoot. I am so thankful we found her. Her ability to read each hoof to determine what it needs and a good common sense approach to trimming have benefited Fernando. His toes and heels look so much better and there is a noticeable increase in depth and concavity on his soles. His hooves look great, but more importantly, they are healthy. He is a happier and healthier horse. I would like to add that Fernando came to me from a very abusive past and has a very hard time trusting humans. Corrie took the time to understand his horsenality and gain his trust and was very patient and consistent with him.

Fernando's hooves grow very fast and I wanted to be able to address this between trims. Corrie was kind enough to share her knowledge and provide resources to assist me in learning how to trim. She also provided demonstration and hands on training. Her instruction has given me the knowledge and confidence to do maintenance trims not only on Fernando's hooves, but other horses as well.

Corrie's journey has her relocating thousands of miles from us and Fernando and I will miss her; however, she has trained our new trimmer and I am confident that she will continue the good work Corrie has started. —Rita White, owner.
---
My horse Jager suffered from frequent lameness which always provoked us to question its cause. I previously had him with a farrier who trimmed him for about 3 years and before that he was shod. I was unaware of the mechanics of the hoof and the affects a proper trim versus an improper trim will have on it. One day, a very well known massage therapist in the area suggested that he should start receiving a proper trim and the first trimmer she recommended was Corrie Mannion. I called her immediately! I was extremely impressed by her professionalism and knowledge. Unfortunately, many owners are uneducated about hooves and its role in the horse's life, but Corrie makes sure to share her knowledge and get her clients excited about learning. She tracks the progress of each horse through photos she takes before and after each trim. Jager has made incredible improvement and I have gained priceless knowledge and awareness about his feet. I could not recommend Corrie highly enough because of how much I value her quality of work, her knowledge, and her kind soul with horse and human. —Skyler Suess, owner.
---
I have known Corrie since she first became serious about becoming a trimmer. The first horse she worked with while she was learning to trim was a horse I worked on regularly. I watched Corrie dive into her new task with great enthusiasm and seriousness. She studied the best materials from Pete Ramey and Maureen Tierney. A short time later she was able to be mentored by Paige Poss of Iron Free Hoof. She did such an excellent job that she was able to work on another horse in her barn. Within a short time, I was confident enough in her to start sending my clients' horses to her for trimming.

Soon she was trimming at least a dozen horses that I am acquainted with, plus others who came to her by referral. Virtually all the feedback I have received about her has been excellent. Because we have so few good trimmers in our area (coastal Virginia), soon Corrie began to use her excellent communication skills to teach and mentor other interested horse owners to do their own horses, as well as training the young woman who has replaced her here.

In addition to her skills as a trimmer, Corrie has distinguished herself by her ability to communicate to owners the benefits of natural trimming and educate them in those things that ensure the success of the process of transitioning from shod to barefoot. She sets very high standards for herself, moreover she is extremely professional, honest and ethical. I highly and confidently recommend her to do an excellent job of trimming horses and to teach owners to learn to do it themselves. —Lorinda Springston, EqTPM, owner of Integrated Equine Muscle Therapies and Equine Bodyworking.
---